HIKING & CLIMBING IN ALLGÄU
ACTIVE SUMMER HOLIDAY IN BAVARIA
The Allgäu seems to be tailor made exactly for your hiking and climbing holiday full of events. Alpine meadows shine so wonderfully in summer. Cows graze peacefully, while fresh milk and cheese specialties are being served out at idyllic alpine places. Countless paths and routes promise challenges for all levels of experience. And those preferring an easy tour can hover comfortably and free of charge on a cable car in the airy heights of Imberg, Hündle or Hochgrat.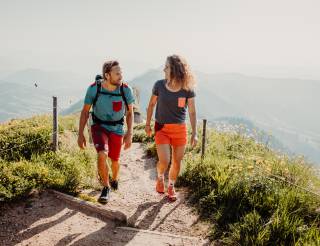 HIKING AROUND OBERSTAUFEN
DISCOVER THE MOUNTAINS IN ALLGÄU
Splendid panorama as far as Swiss peaks. Purely natural meadows and forests. And mountains in all the hues. When setting out for hiking in Allgäu, many little adventures and natural spectacles can be awaited. During richly varied tours along a 250 km long, well-developed network of paths. Whether child-friendly family hiking along the Alpine Adventure Trail, a sunset ride on the Hochgrat or a demanding mountain tour through the Nagelfluh mountain range. There is a favourite tour for everybody in the Allgäu foothills. And unforgettable mountain adventures.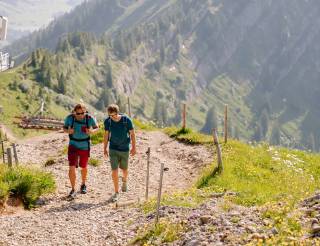 CLIMBING IN ALLGÄU
GARDENS & ROUTES WITH A KICK
Besides demanding climbing & boulder routes in open landscape, diverse climbing gardens around Oberstaufen invite for height intoxication. From high rope forest gardens through climbing tracks of various levels of difficulty to the largest Bavarian high rope garden, the "Bärenfalle" in Ratholz: Children from 6 years of age and a body height of approx. 1,20 meters get their full share around Oberstaufen.
More at huendle-imberg.de
More at sport-hauber.de
More at kletterwald-baerenfalle.de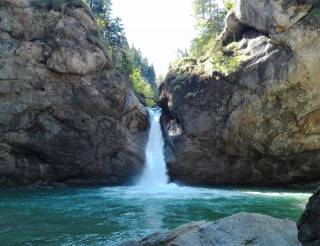 SWIMMING & WATER SPORTS
REFRESHMENT IN ALLGÄU'S WATERS
Alpsee, Bodensee, Eibelesee or Hopfsee. Buchenegger waterfalls, MONDI indoor pool, natural stream or the Aquaria family pool. The choice will be extremely difficult for you around the MONDI Resort Oberstaufen on how exactly you wish
to refresh and recover after your hiking efforts. By swimming, a boat trip, rowing or standup paddleboarding. A paddle boat trip, sailing or winging. In any case, the mountain panorama is enchanting. Bathing fun guaranteed.
Futher Activities
Summer events in Oberstaufen
Golf – Twice 18 holes for your golf holiday with panorama. - More at golfzentrum-oberstaufen.de
Paragliding – The dream of hovering in the Allgäu mountains - More at paragliding-academy.com
Summer tobogganing – Action and fun on Germany's longest coaster - More at alpsee-bergwelt.de
Horse riding – Find your happy holiday on horseback - More at erlebnisponyhof.de
Tennis – Two courts directly at the MONDI Resort Oberstaufen
Squash – Court directly at the MONDI Resort Oberstaufen
Skittles – Alley directly at the MONDI Resort Oberstaufen
Motorbike, oldtimer and cabrio tours – start your adventure tour directly at the MONDI Resort Oberstaufen