YOUR WINTER HOLIDAY IN OBERSTAUFEN
SKIING & OTHER ACTIVITIES IN SNOW
The winter in Allgäu is magnificent. For a skiing holiday in the Steibis ski arena or at the Thalkirchdorf ski lift. In the open landscape of the Hochgrat or at family ski resorts on Hündle and Imberg. Apart from that, over 100 km of cross country trails are ready for you. Idyllic natural bobsleigh chutes invite, partly till late night, for lively sledge enjoyment. And the best of all: As a guest in the MONDI Resort Oberstaufen, you have ski passes and lift rides free of charge in the nearby areas. Thanks to Oberstaufen Plus. So don't miss it. Skis, sledges, snowshoes and snowboards can be rented affordably and comfortably from our sports partners Sport Hauber. With a test centre.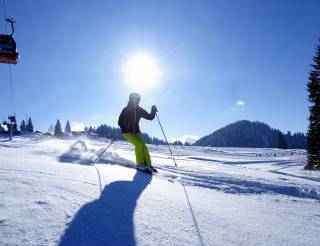 40 KM OF SLOPES FOR PURE SKIING JOY
SKIING HOLIDAY IN OBERSTAUFEN. WITH A FREE SKI PASS
The Oberstaufen sports and holiday region at up to 1.834 m of altitude is a top choice for your snowboard or ski holiday with your whole family. The ski resorts in Steibis, on Hündle, in Thalkirchdorf and Sinswang are especially suitable for children, beginners and re-entrants. One four-seat and one eight-seat gondola lift plus 22 tow lifts bring you uphill in a full comfort. Experienced riders, free riders as well as tour enthusiasts find their joy on the Hochgrat slope outreaching six kilometres in length. The guests of the MONDI Resort Oberstaufen benefit from their guest card providing a free ski pass in all the four ski resorts. And from personally tested partner operators of ski courses and rentals.
Info on tickets & lifts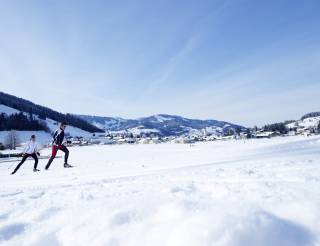 CROSS COUNTRY IN ALLGÄU
100 KM OF TRAILS FOR YOUR HAPPY WINTER
Twelve trails, 100 km and all thinkable levels of difficulty. Coming to Allgäu for cross country skiing, you will find the best prepared trails. Breathtaking tours. And relaxed round courses. We can especially recommend the Hündle and Kalzhofer trails (available till evening hours with floodlights), the Au trail in Steibis and the Imberg-Hädrich-Höhen trail, offering not only a particular guarantee of snow, but also unique views of the mountains. Orientation is provided by the cross country map that is to be had at guest's holiday home, indicating all the certified trails. Equipment can be rented from our partner company.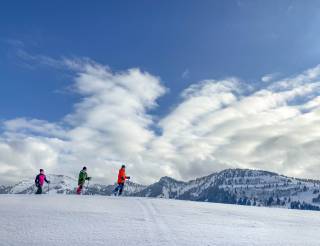 SNOWSHOE HIKING IN ALLGÄU MOUNTAINS
A WONDERFUL EXPERIENCE IN NATURE
Start directly from the MONDI Resort Oberstaufen to trudge through the Allgäu landscape on snowshoes. A relaxed alternative to ski tours and slope joys. Ideal for the whole family. Easy to learn and particularly close to nature.
The reception desk will be happy to provide you with individual information on guided snowshoe tours and on rental of snowshoes from our partner.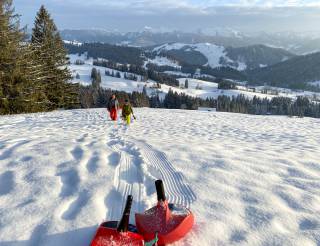 SLEDGING IN OBERALLGÄU
RUNNER PASS FOR THE WHOLE FAMILY
On gentle hills or floodlit chutes: A bobsleigh party is not to be missed during a winter holiday in Oberstaufen. Get uphill conveniently on foot or comfortably by the lift in Steibis. The descent on Imberg offers a drop in altitude of 380 m along a track of 2 km and invites for night sledging to the same extent as for relaxed family fun. You can easily rent your sledge and bobsleigh on site.
Further Activities
Undertakings in the winter Allgäu