The MONDI Resort Oberstaufen
Individual Holiday in Allgäu. In the bavarian mountains
You will find the MONDI Resort Oberstaufen in the Bavarian Picture Book, in Allgäu, surrounded by manifold summits between the Bodensee lake and the Neuschwanstein castle. Amidst greenery, near the famous spa town. Waiting for you are cosy hotel and superior chalet accommodations for up to six persons. For your relaxed time off with your whole family. With a real lot of space. Your own balconies or terraces. Kitchenettes. Varied children's animation. NEW forest adventure playground. Indoor pool. Saunas. Wellness and massaging opportunities. As well as countless leisure activities available to you as MONDI guest free of charge or largely discounted.
Ideal for families & active holiday makers
Hotel apartments in greenery
Free cable car rides all year round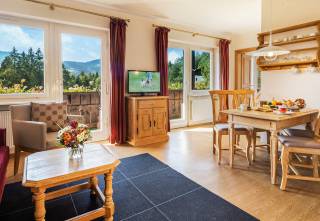 fully furnished hotel apartments
Park-like holiday facility in the mountains
Wellness areas with indoor pool & sauna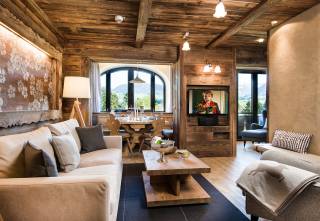 Exclusive culture of living
Fantastic views into greenery
Wellness in indoor pool & sauna
EXCLUSIVE DIRECT BOOKING BENEFITS
GENUINE ADDED VALUES FOR YOUR HOLIDAY IN ALLGÄU
BEST PRICE GUARANTEE

Book right here at the MONDI Hotels & Resorts. And you can be sure of the best price. Genuine. Fair.

Late Checkout

Book right here at the MONDI Hotels & Resorts. And your accommodation will be available for an extra hour on your day of departure. Simple. Easy.

EXTEND YOUR TIME OFF

Book right here at the MONDI Hotels & Resorts. And you can use our inviting wellness areas till 16:00 on your day of departure. Refreshing. Pleasant.
THE MONDI THEME WORLD
EXPERIENCE FREEDOM AND ALLGÄU
Top-Offers
FOR YOUR EVENTFUL TIME OFF IN ALLGÄU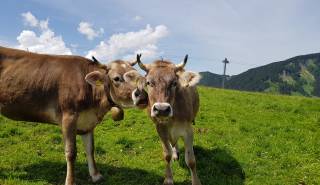 The Allgäu
Trip to Bavaria
Discover the Allgäu. For your holiday in the Alps. With their enchanting meadows and unspoiled natural landscapes. Picturesque villages and challenging peaks. Ideal for mountain sports such as skiing, sledging, hiking, biking or climbing. And a gentle enjoyment of nature. Between the Bodensee lake, Kempten and king Ludwig's Neuschwanstein castle. With a well-developed network of paths. Rich opportunities for tours and trips. As well as a number of power spots radiating energy or offering relaxation. Experience various traditional events such as the "Staufen" cattle parting or the Fasnatziestag. Or sports highlights including the New Year's Jumping in Oberstdorf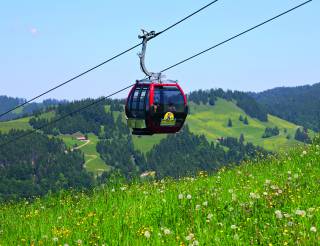 For free on Allgäu summits
Free cable car rides as often as you like
You like to start directly with a perspective of hiking enjoyments? Or prefer to bring your hiking day to an end hovering towards the valley? Then you are exactly right here at the MONDI Resort Oberstaufen. As here, your ticket for the nearby cable cars is already included in your price for accommodation. For the whole family. Whether you want to relish the sunset on the Hochgrat, pay a visit to the Alps on the Imberg or rush down along the Hündle summer bobsleigh track. You have a free choice every day. And experience the Allgäu summits from their most beautiful sides during your mountain holiday. Active and particularly family-friendly.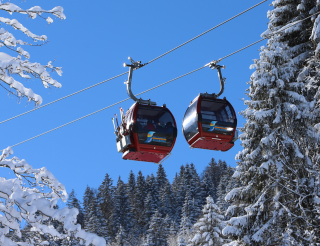 Free ride on all ski lifts
Free ski pass for four ski resorts in Allgäu
You think that "skiing is an expensive entertainment"? Not so with us at the MONDI Resort Oberstaufen. Because here, your ski pass for four ski resorts in the Allgäu Alps is already included in your price for accommodation. Sounds funny? But it's true. Altogether, 28 ski lifts are ready for your skiing without an extra cent to spend. This means an absolutely affordable ski enjoyment for the whole family. Now it is up to you to decide which of your vacation days you choose for your freeride joy on the Hochgrat and when you wish to admire the initial moves of your children on the Sinswang lifts. With Hündle and Imberg, two additional family-friendly winter sports resorts are situated in the immediate vicinity of the MONDI Resort Oberstaufen. Superb conditions for skiers and snowboarders. Both beginners and profs. Ideal also for sledging and winter hiking.