MEET AT THE MONDI RESORT OBERSTAUFEN
IN THE MIDDLE OF ALLGÄU. FOR UP TO 60 PERSONS
Whether seminar, incentive, sales meeting or teambuilding scheme: You will find the right location for your successful business event at the MONDI Resort Oberstaufen. With up to 60 participants. We will organize your events intended to inform, motivate and inspire your employees, colleagues and customers. Creative highlights away from office routine, during which you can calmly focus on your objectives. Everything else is up to us. From suitable rooms with modern technology and view of greenery. Through the physical well-being and appropriate accommodation. All the way to a perfect framework programme with unforgettable undertakings. For your success.
Bright seminar rooms amidst greenery
Perfect location in the mountains
Modern technology & top organization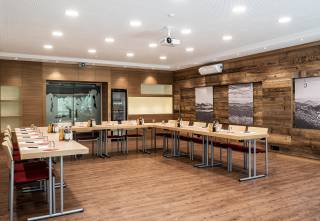 For up to 45 persons
Including equipment & overall organization
Congenial atmosphere
To conference Rooms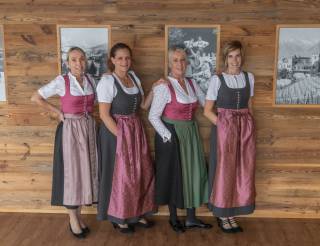 References
This is what our guests say:
Ian Scott - Asia Pacific Sales & Marketing Director

"Dear Alpenblick-Team, very sorry for the delay in this email, I have been travelling a lot about Asia following up on our Distributor meeting we had at your hotel the other month. That being said that has been one of the happy topic's my customers always bring up, how the venue and service for the distributor meeting was great. I just thought I should inform you of this, making everyone feel welcome and the process of checking in and out being quick and easy makes the meeting side of our event even easier. Our morning runs with all those walking trails made us all see another side of Oberstaufen in which we would not have seen. Thanks for being so friendly, as we had all travelled so much to get there from around the world and as German is not our first language. Your kind welcome, nice food and last but not least the amazing swimming pool. All these small things add to making our event better. Best regards"

LEDC Germany GmbH - Ingo Weiler

"Dear Mrs Deuschle,
We would like to thank cordially to you and the whole team of your Alpenblick Hotel! The seminar room, the equipment provided, accommodation and also the choice of places for dinner were all excellent! Great and very attentive services, so that our international Distributor's Meeting went successfully and to the full satisfaction."

PROFILE DESIGN Cycling Components Designed

"Dear Alpenblickhotel Team
Thanks very much to you personally, and the entire Alpenblick Hotel Staff, for hosting a very special three days for the Profile Design Global Distributors meeting! Our team was awestruck with how beautiful the hotel and surrounding scenery was in the wonderful Bavarian Alps! The meeting would not have been the same if we had chosen to have it anywhere else so I hope to see you again in the coming years. With kind regards and thanks, Tim"

Reisebüro Will und dem Ski-Team SVS Regiowest

"Dear Mrs Deuschle,
let us thank you for your professional and incredibly friendly support of our ski team. The kids were totally taken aback by your swimming pool, and the parents by your ski room and your great apartments, and the Will travel agency by your incredibly professional care and handling of our group booking. You can be sure we will come again with pleasure. Warm greetings"

The CYCLE CAFÉ team

"Dear MONDI team Oberstaufen,
our dear Mrs Deuschle,
you and the entire team of your house have a substantial share in the success of our event, and we want to say THANK YOU. A first-class support from A to Z and, above all, an unbelievable mix of human approach, professionality and hospitality. Even in the moments that everybody knows and that always emerge during every event / meeting, you and your team were always ready to find a solution with a smile – THANKS! Let's write SERVICES and COMFORTABLE FEELING with capital letters, as they are accompanied by your friendly smile and ease – please keep it up and harvest lot of compliments, thanks and success."