Career
at MONDI Resort Oberstaufen
Whether housekeeping, technical work or sports. Services, kitchen or child care: There are plenty of opportunities at our MONDI Resort Oberstaufen. Together with 40 colleagues, we create unforgettable time off. Relaxing and relishing moments. Exquisite culinary art. Marvellous family holidays. That is why we are always on the search for newcomers. Movers. And pros. Those not only seeking a source of income. But rather an ample space for new ideas and a very personal place within our friendly team.
Job Finder
at MONDI Resort Oberstaufen
No jobs available right now
Not the right one just now?
Even when no vacancies of your interest are open at the moment: We are always on the search of outstanding talents and creative minds. Do you feel addressed? And can you imagine working with us? We look forward to your unsolicited application!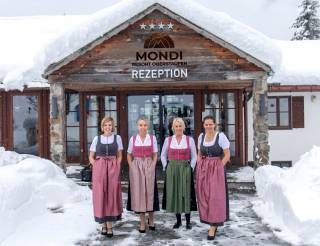 About us
From 2020, the MONDI Resort Oberstaufen has been managed by its director Daniel Fischer. With great experience, passion and empathy, he leads his energetic team counting up to 40 people. Why all of us are so happy to work here?
Day by day, we look forward to a secure place of work in one of the most beautiful parts of the Allgäu. Self-dependent working together with a friendly, open-minded team is a matter of course, which spurs us with power. Strengths and talents of each individual are asked for, and new ideas always welcome.
We look forward to our guests and do our very best to offer them an unforgettable holiday from check-in all the way to check-out.
Welcome cordially at the MONDI Resort Oberstaufen!
Our Benefits
What we offer to our colleagues
We rely on longstanding collaboration. And we know how to appreciate the commitment of every individual team member. As an inspiring employer, we offer:
Exciting tasks | richly varied, self-dependent work descriptions in the resort
A very good working climate
Attractive compensation
At least 25 vacation days that do all of us good
Flexible, reliable working time
Modern equipment for all types of work
Accommodation with WLAN for fair prices
Additional amenities such as largely discounted holiday opportunities
Free parking places
A strong togetherness
Interesting professional development opportunities
Advancement opportunities within MONDI Hotels & Resorts
Our Team
Depending on the season, our team includes some 40 professionals. Trainees, pros and newcomers work together to achieve success for the MONDI Resort Oberstaufen. As a friendly team inspiring their guests by top services. And living a family-like, relaxed togetherness. 
We are happy to introduce ourselves:
Christine Fink
Animation & Guest Care
from 2013 at MONDI Resort Oberstaufen
I am a colourfast "fehl" (girl) coming from the Staufen country, therefore very closely bound with my homeland. Having completed my school, I started my apprenticeship as housekeeper in a rural area. For 15 years, I was then active as Schroth therapy packer. A trade that has a long tradition here in Oberstaufen.
As I am very active and like singing and making music in my spare time, I was glad of having an opportunity to begin my work in guest care for the MONDI Resort Oberstaufen in 2013. Since then, I have been making our guests happy with jaunty water gymnastics and most diverse hiking through my beloved homeland.
This is one of my great joys. And I still have enough time for my family. I am married, with three children and seven grandchildren so far. And I am so proud of them!
Steffi Vogler
Accounting | Human Resources
from 1992 at MONDI Resort Oberstaufen
"Now simply something for a year …", I thought to myself in June 1992 when starting my trainee work at the MONDI Resort in Oberstaufen, for which I have enrolled during my year abroad in Spain.
As a trained office administrator, I attended the reception desk, was partly active in guest care and animation, and finally landed in accounting.
After brief breaks – such as a detour through the MONDI Resort Gastein or when looking after my two children – I came back to Oberstaufen in 2001 as half-timer.
Most diverse tasks, flexible working time and a great, motivated team, this makes me go to work with a lot of joy every day, this was the same in past as it is now.
Meanwhile, I am not only in charge of accounting – my signature now also includes an "HR" for Human Resources, and I am responsible for all personnel matters of my colleagues here within our operation.
Besides a really great work, I enjoy my wonderfully beautiful home of Allgäu when hiking, cycling and skiing, spending time with my family or with a good book in my home's garden.
To conclude: In the meantime, a single year turned out to be a plenty of years. Doesn't this say something about my TOP employer MONDI ?!
Claudia Pfefferle
Housekeeping
from 2009 at MONDI Resort Oberstaufen
Since the completion of my education at the school of home economics, I have been always active in hospitality. For over 20 years, I worked as all-rounder in a small family-managed hotel in Oberstaufen. From restaurant servicing, room cleaning and laundry to phone service, my tasks simply included all of that.
Before coming to the MONDI Resort Oberstaufen in 2009, I was gaining some more experience at the Schlossbergklinik in Oberstaufen for another four years, supporting the cleaning services.
I was first employed here as assistant of cleaners. In this position, I was responsible for cleanliness of rooms and apartments and for introduction and training of new colleagues. After two years of employment, I was even able to take over the management of housekeeping. I was considered to have a good knowledge of human nature. A nice award and, at the same time, a spur to always motivate our employees in cleaning services in a friendly and pleasant way.
In 2019, I had to reduce my working time for health reasons. Since then, I only work 32 for hours on part time. I have conferred the management of the department to a colleague.
With increasing age, one simply needs more time to regenerate. BUT: Working for MONDI still brings me a lot of joy! And it leaves me enough time to relish the magnificent nature in our neighbourhood in my spare time. I love biking and hiking and, occasionally, I buckle my inline skates. When some time still remains, I like to spend it with good reading stuff.
Marina Bottke
Reception Desk
from 2020 im MONDI Resort Oberstaufen
My journey towards the reception desk at the MONDI Resort Oberstaufen was not a classic one: I grew up in the beautiful Western Allgäu and then studied special pedagogy in Würzburg. When being at home during semester breaks, I had an opportunity to assist here in the hotel with children's animation now and then.
Having completed my studies, after taking most diverse detours – voluntary work in Serbia, elementary school teacher, starting my second line of studies – I finally landed back in Allgäu in summer 2020. Almost directly at the reception desk of the Mondi Resort. My tasks at the reception include, among many others, cordially welcoming our guests, answering any questions they may have and working with bookings. A good atmosphere and spirit in our team help me to handle all the challenges. Besides that, it is very nice to work together on relaxation and recovery of other people. Our flexible working time allows me to study psychology aside of my job and to pursue my volunteering activities.
Apart from work, I support refugees, enjoy the Allgäu's mountain air and perpetually fail in attempting to educate my dog.
Marijana Mitar
Housekeeping
from 2015 at MONDI Resort Oberstaufen
Directly from Croatia, I came to the MONDI Resort Oberstaufen and started there as cleaning person in summer 2015.
I had an opportunity to improve my poor German language skills in courses supported by MONDI. And, naturally, in everyday practice. Gradually improving the language was always important for me. This, together with the fact that I am a quite ambitious human being in many respects, allowed me, now and then, to take over the tasks of a "checker".
When I thought that now everything was going quite well, a vicious disease threw me off the track. I could not work for many long months. However, I was lucky that my employer MONDI also supported me during that time. By personal contact, assistance and, on top of that, with my staff room.
My colleagues became a kind of "substitute family" for me. I could fully rely on them and also had a lot of fun with them. I really like my work and look forward that, from this year on, I will have an opportunity to support our cleaning ladies as "checker".
I am also fond of strolling around the facility, good books and football. As Croatia was in the final of the World Championship in 2018, I quickly swapped my work apron for the Croatian national shirt and produced a lot of smiling faces here, plus plenty of applause.
In any case, I applaud to my employer MONDI and hope to be belonging to this team for many years to come.
Vacancies
in all MONDI Hotels & Resorts