Cuisine on your Allgäu holiday
Individual enjoyment for every taste
All accommodation units at the MONDI Resort Oberstaufen are equipped with kitchenettes. So that you can arrange your holiday as individually as possible. In addition, a rich breakfast buffet is available at our new restaurant Luca's Oberstaufen. In the afternoon you can strengthen yourself with fine cakes, ice cream and drinks at our cosy café bar or on the sun terrace. And in the evening, the friendly restaurant team will spoil you with international delicacies, which are also available to take away. The hotel bar is open until midnight.
Time for enjoyment
at Luca's Oberstaufen
Breakfast
From 7.30 a.m. to 10.30 a.m.
Fine delicacies for the perfect start to your day at the restaurant
Afternoon
From 3:00 p.m.
Pure comfort with coffee, cake, ice cream and drinks at the café bar or on the sun terrace
Evening
From 5.00 p.m. to 9.00 p.m.
Cuisine - international and culinary made with love
from 9.00 p.m. to 10.00 p.m.
Cold delicaciesat the restaurant
Night
Until midnight
Cocktails, snacks & drinks in the café bar
Breakfast buffet
Versatile enjoyment in the morning
At our rich breakfast buffet, you will have a happy start to each day of your holiday. We always serve fresh and cheerfully from 7.30 a.m. to 10.30 a.m.:
Muesli variations
Handmade jams, honey and other spreads
Price: €18.00 | per adult, € 9.00 | per child (4-13 years)
Please let us know about any intolerances when making your reservation.
We offer an Allgäu breakfast package to all those who prefer to have breakfast in private.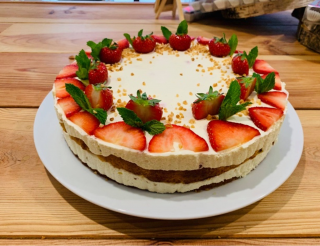 Afternoon coffee
Fine delicacies in between
We think: If you experience a lot, you can also reward yourself. With fine cake creations, tempting ice cream compositions, coffee specialties, teas, and drinks. Fresh every day. From 3 p.m. at the café bar.
Hand-baked cakes and tarts
Various ice cream compositions with and without cream
Coffee specialities
Please let us know about any intolerances when making your reservation.
Delicious Food:
Fresh pleasure a la carte
Reserve your table directly. We take care of your pleasure. At our new specialty restaurant Luca's Oberstaufen. With warm service. And fine, international cuisine. Lovingly prepared and fancily created. The menu changes by season. Warm dishes are available from 5 p.m. to 9 p.m. Cold food is available until 10 p.m.
Of course, you can also order our delicacies to take away. Whether you want to dine romantically in your accommodation or comfortably at a picnic.
Please let us know about any intolerances when making your reservation | order.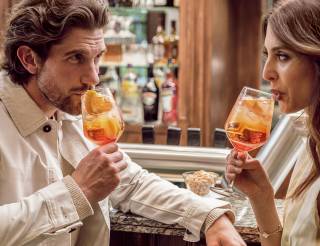 Socialization before the night
End the day comfortably
Brush your teeth after eating and go to bed? Not with us. We look forward to you joining us in our comfortably designed café bar until midnight. With a variety of cocktails, snacks and drinks. Interesting, funny, and stimulating conversations. Special moments which make every day rememberable and unique.
Our breakfast suggestions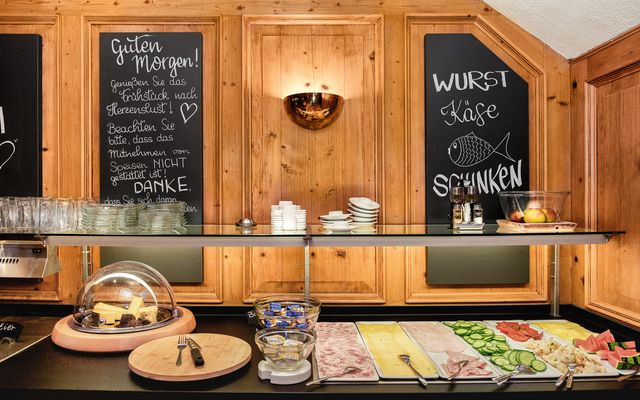 Breakfast buffet
At our varied breakfast buffet with a large selection of specialities. Daily from 07.30 to 11.00 a.m. in the resort restaurant.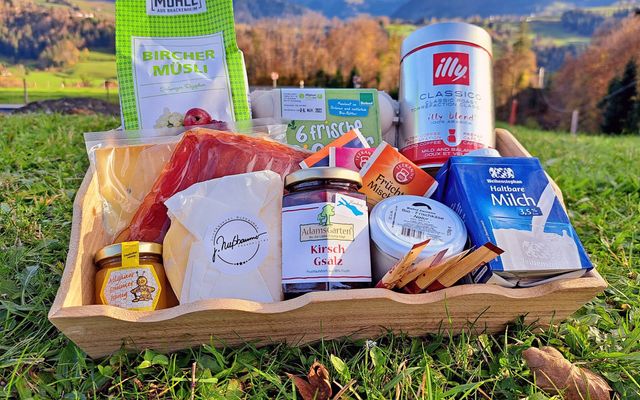 Allgäu Starter Breakfast
Upon arrival, your fridge is already filled. With a selected regional choice including 1 jam (130 ml), 1 honey (50 ml), 1 piece of bacon, 1 piece of mountain cheese, 1 crunchy muesli (230 g), 1 small piece of barrel butter, Illy coffee powder (100 g) and 1 milk (500 ml).