Italien or Allgäu
Decide yourself.
All accommodation units at the MONDI Resort Oberstaufen are furnished with kitchenettes. So that you can organize you holiday as individually as possible. Besides that, you can be spoilt with Italian delicacies in our Di Cicco restaurant-pizzeria. In the morning, you can serve yourself from a rich breakfast buffet. Order an Allgäu starter breakfast directly to your room. Or receive a gourmet cook in your private chalet suite.
DI CICCO RESTAURANT-PIZZERIA
DELICIOUS. ITALIAN
Whether pizza or fine pasta dishes. Colourful antipasti or classy fish and meat dishes. In the "Di Cicco restaurant", Paolo and his team serve delicious specialties from fresh ingredients, bringing a Mediterranean atmosphere to Oberstaufen. Be just spoiled on the terraces opening to the greenery or in the cosy interiors. And enjoy the friendly service.
Do you prefer your own four cosy walls with Pizza & Co? No problem, there is a choice of take-away meals in the "Di Cicco" restaurant-pizzeria. Make your order under the in-house telephone number 165 and pick up your favourite food at the restaurant shortly thereafter.
And also as regards the breakfast buffet, you will find – within the rooms of "Di Cicco", your first tasty highlight on an accomplished vacation day.
We kindly ask for table reservation for the evening on the internal telephone number 165 (from 16:00).
Local traditional taverns are an opportunity to enjoy the "typical cuisine of Allgäu". Famous and liked thanks to its informal atmosphere is the "Altstaufener Einkehr" in the centre of Oberstaufen. The rustic ambience together with delicacies of Allgäu can also be arranged when visiting cottages during our guest programme. We know very well where the kitchen is good. Please just ask at the reception desk.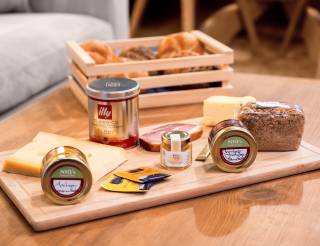 BREAKFAST
THE ALLGÄU'S START INTO YOUR DAY
In good moods already from morning? Understood. With our Allgäu's starter breakfast, which you will find ready in your fridge on your arrival to the MONDI Resort Oberstaufen. With the finest regional meals providing for your particularly pleasant start into your first vacation day. Whether bacon or cheese. Churned butter or milk. Coffee, bread or marmalade and honey: This is the taste of Allgäu.
As a matter of course, you can also reserve a place for the breakfast buffet in the "Di Cicco" restaurant-pizzeria. Or purchase your favourite products yourself.
Our breakfast suggestions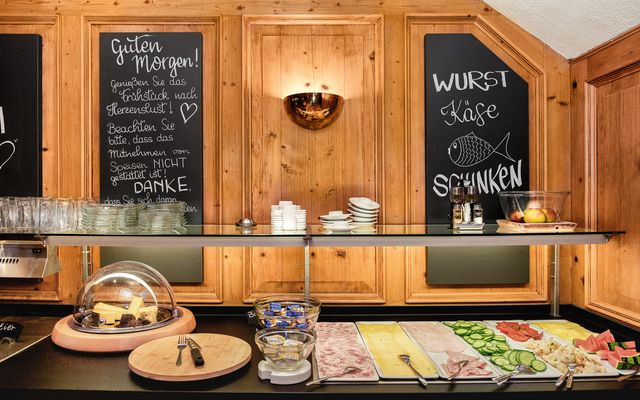 Breakfast buffet
At our varied breakfast buffet with a large selection of specialities. Daily from 07.30 to 11.00 a.m. in the resort restaurant.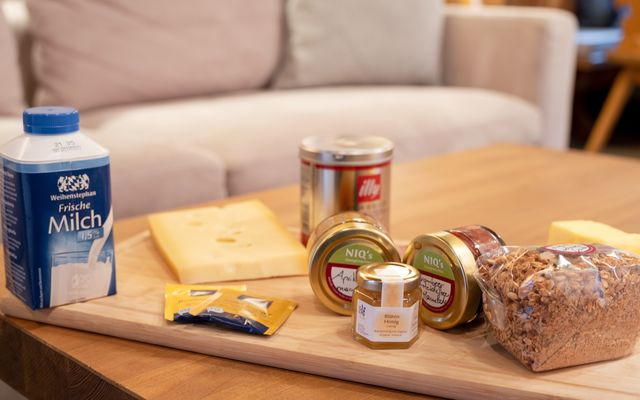 Allgäu Starter Breakfast
Upon arrival, your fridge is already filled. With a selected regional choice including 1 jam (130 ml), 1 honey (50 ml), 1 piece of bacon, 1 piece of mountain cheese, 1 crunchy muesli (230 g), 1 small piece of barrel butter, Illy coffee powder (100 g) and 1 milk (500 ml).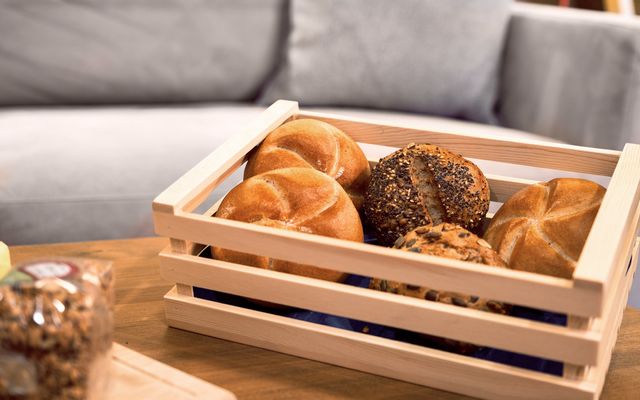 Mixed bread bag
If you order, you will find a mixed bag (5 mixed breads) in front of your room every morning at around 8 am.