E-BIKING & MOUNTAIN BIKING IN ALLGÄU
ENJOY YOUR SUMMER ON TWO WHEELS
Oberstaufen seems to be tailor made exactly for your thrilling bike holiday. With mild hills and steep descents. Peacefully grazing cows. And idyllic huts inviting for refreshment with cold drinks, fresh bread and butter and self-produced cheese specialties. Countless routes promise highlights for all bikers. Whether with e-bike, mountain bike or gravel bike. And when you like to set out for a tour on easy terms, you can hover, simply and with no charge, over the initial meters towards Imberg, Hündle or Hochgrat on a cable car.
In your MONDI Resort, a lockable bike room is available to you. Better be on the safe side.
You can find some tour suggestions and additional info at oberstaufen.de.
Bicycles and mountain bikes are to be rented on site. More at sport-hauber.de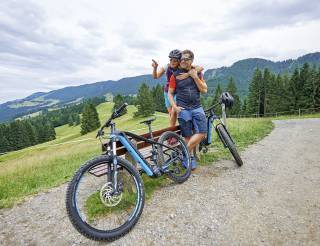 ON E-BIKE AROUND OBERSTAUFEN
EXPERIENCE THE MOUNTAINS IN ALLGÄU
Absolutely relaxed, you and your entire family ride your e-bikes through Allgäu. Both in valleys and in heights, you will experience a breathtaking day in the mountain world that everybody will keep in memory. Hair fluttering in the wind, then simply switching on your turbo in steeper uphill passages. Not to get overstrained. Enjoy the landscape at first hand. And attain peaks that will fuel your dreams. Only flying is more beautiful!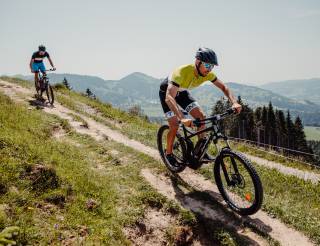 MOUNTAIN BIKING IN ALLGÄU
ALL MOUNTAIN AND TRAIL BIKES AND EXHILARATING SUMMITS
Oberstaufen is the ideal destination for your biking holiday. Discover attractive and pleasant mountain bike tours for families, connoisseurs and ambitious bike freaks. An extensive network of trails on varied terrains all the way from valleys up to high altitudes of Alpine foothills guarantees an absolute biking exhilaration. And when you are not yet happy enough with the impressive panorama, one of the nearby bike and fun parks will provide you with pure adrenalin kicks with a warranty of excitement.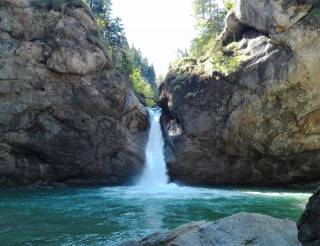 SWIMMING & WATER SPORTS
REFRESHMENT IN OBERALLGÄU
Alpsee, Bodensee, Eibelesee or Hopfsee. Buchenegger waterfalls, MONDI indoor pool, natural stream or the Aquaria family pool. The choice will be extremely difficult for you around the MONDI Resort Oberstaufen on how exactly you wish to refresh and recover after your biking tour. By swimming, a boat trip, rowing or standup paddleboarding. A paddle boat trip, sailing or winging. In any case, the mountain panorama is enchanting. Bathing fun guaranteed.
FURTHER ACTIVITIES
SUMMER EVENTS IN OBERSTAUFEN
Golf – Twice 18 holes for your golf holiday with panorama. - More at golfzentrum-oberstaufen.de
Paragliding – The dream of hovering in the Allgäu mountains - More at paragliding-academy.com
Summer tobogganing – Action and fun on Germany's longest coaster - More at alpsee-bergwelt.de
Horse riding – Find your happy holiday on horseback - More at erlebnisponyhof.de
Tennis – Two courts directly at the MONDI Resort Oberstaufen
Squash – Court directly at the MONDI Resort Oberstaufen
Skittles – Alley directly at the MONDI Resort Oberstaufen
Motorbike, oldtimer and cabrio tours – start your adventure tour directly at the MONDI Resort Oberstaufen